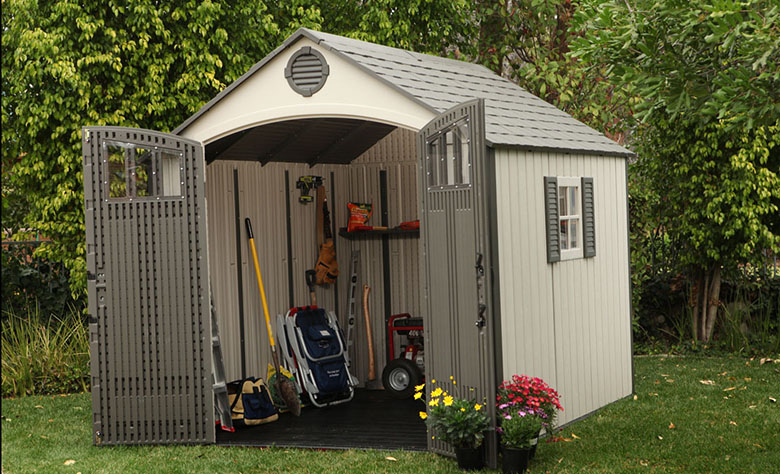 Smart Ways to Increase Outdoor Storage Space
Diana Smith, 7 years ago
0
3 min

read
1344
Having a beautifully decorated and organized garden is one of the best things in the world. Trimmed grass, colorful flowers, a couple of nice trees which give fruit in autumn, lovely patio, and a small shed somewhere in the back… A nice garden will make any person feel like they are closer to nature, and appeals to the vast majority of home buyers. Not only is the organization of your garden important, but you should also think about making the most of your small garden shed.
Clear out the mess first
Before you start bringing in all the things you seldom use in your household, you should first check what you already have stored inside your garden shed. If you have way too many things to go through, better call a friend or a family member and ask for a helping hand in sorting things out. You will probably be surprised by what you'll find inside… Don't keep everything!
Upcycle flower pots
If you are fond of gardening and have plenty of plants and gardening tools, you probably have plenty of flower pots as well. Upcycle old flower pots and use them for storing gardening tools and supplies. Wash your tools, fill the flower pots with sand, and simply stick them inside. Group the similar items together: gardening gloves in one pot, scissors in another, bird food in third… This way, you will easily see where everything is when you need it, and it will always be within reach.
Use the walls
There will probably be a shelf or two in your garden shed, but why not make the most of your shed's height and fill the walls with useful shelves which will save you plenty of storage space. You can use traditional shelving material such as wood or plastic, but you can also try placing your old rakes directly on the wall and using them to hang small buckets or even your old gardening jacket. What's more, you can attach simple pallets on the walls and use them to place rakes and shovels inside. This way they will not be in your way and you will have more storage space on the floor.
Pegboard to the rescue
Perhaps placing plain white pegboard on the walls of your garden shed might not sound too inviting, but you will be surprised with the results. White pegboards on the walls means that all of your tools will be stored neatly, and you can even place some of your plants up there.
Use the roof
To use the storage space of your garden shed to the fullest, you can try using the roof as well. The small 'attic space' can hold a lot of plastic containers and cardboard boxes, and all you need to do is get the metal brackets which can be locked into different angles. By doing this, you will get plenty of space to store not only your gardening tools, but some items from your home as well, such as old books or clothes.
Having a garden shed is incredibly useful, but its usefulness can be reduced if you don't make the most of the little space it offers. Not only will you have more storage space for all kinds of things you need for gardening and small repairs, but you can also use it to store some pieces of furniture or equipment you don't often use. With just a bit of effort and dedication you can drastically increase your old shed's storage capacity.
Diana Smith
Diana Smith is a full time mom of two beautiful girls simply in love with interior design and DIY projects. In her free time she enjoys exercising and preparing healthy meals for her family.
Related posts