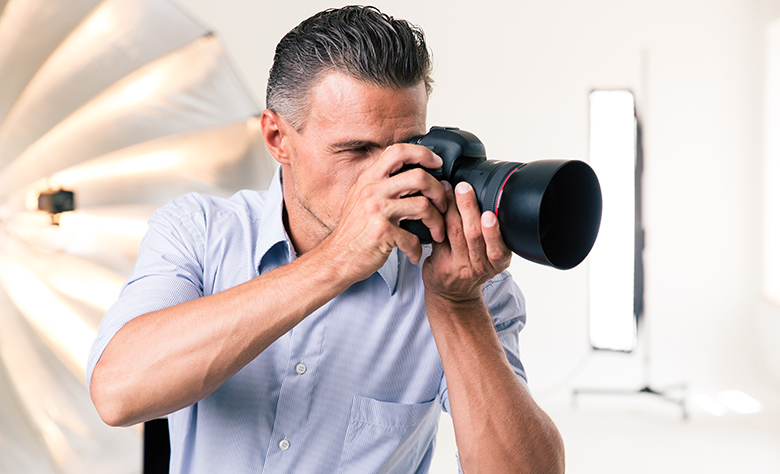 5 Essential Tips for Real Estate Photographers

Julia E. Miller, 6 years ago
4
6 min

read
1181
Homeowners know their house best – every corner, flaw or asset – and should be the ones in charge of advertising it when it comes to a sale. After all, who could tell the house's story better than those who lived in it for so many years? It's not only about bricks and mortar, roof and gutter, it's also about memories that have to be shared. Or not? What homeowners have in abundance, besides scrapbooks, is a lot of partiality that might destroys their chances of making a convincing case when advertising their house. Hiring a real estate agent is crucial as he relieves the emotional burden of marketing and also brings in another important element to the equation: you, the real estate photographer. After all, everybody knows that beautiful pictures sell more houses and help potential buyers formulate an opinion. Let's see what tricks you can use to boost the sale!
Invest in good equipment
Camera, lenses, tripod, external flash, diffusers and cable release, if you mean business. Of course, your compact camera can take good pictures, too, but we recommend choosing a full sensor DSLR, with HD video capabilities. A good camera will run anywhere from $650 to 1k or slightly above, but the return of investment will be worth your while. When it comes to lenses, choose wide-angle or ultra-wide, for interior photographs. Pay attention to numbers: the smaller, the better. We recommend something in between 12 mm and 24 mm as opposed to the standard 35 mm lens.
Now, tripods. Having a leveled camera eliminates blur and tilted architectural elements. Better yet, use your tripod in combination with the built-in timer or cable release, if you wish to have sharply focused images and get rid of the muscle tension you've been feeling in your hand. Light is critical in real estate photography and so is the use of a good external flash, whenever necessary. Diffusers help you control the light and bring out the best in a room, without worrying about glare.
Understand white balance and set it right
Digital cameras have an automatic setting for white balance, as you probably know, but many other different options,too. Sunny, Fluorescent, Tungsten or Custom are just a few examples. Some even let you choose a specific value (Kelvin). As you get better and better at photographing real estate, try to experiment with different color temperatures in various lighting conditions and see the difference. On the other hand, Adobe Photoshop or Lightroom can help you adjust the white balance in post-processing, as long as you're shooting in RAW.
Turn on the lights!
Any real estate photographer will tell you to use as much natural light as possible and to plan the shoot around the sun. Try doing your research before packing the gear and find out the house orientation together with the weather forecast for that particular day. Slightly cloudy days are much, much better inside and out. When on set, begin with the façade of the house and catch the morning sun in action, if possible. Always photo-shoot with your back against the sun as this will give you that gorgeous blue sky behind the house and do the interiors when the sun is overhead. Leave the pool and back terrace for the afternoon and don't forget to use filters to cut down reflections on surfaces.
Inside, turn on every available light, even the stove hood and reading lamps. Open the curtains and let the natural light invade the space. As we said before, it's better to avoid using a flash if you want to prevent overexposed areas in your photos. Being a real estate photographer means you get to play with perspectives and create the illusion of extra space with just one tool: your camera.
Become a part-time interior designer
As a real estate photographer, you are also responsible for the composition of the space and will need some minimal interior design skills. Don't be afraid to move things around, puff pillows, rearrange books and house plants, and make sure the house is completely clutter free. Ask the owner to do a thorough clean-up before you arrive and leave for a coffee on the day of the shoot – you are there on a real estate mission, not to take family pictures. That being said, try to avoid mirrors and any other reflective surfaces that might catch you in the action or you'll have some Photoshop time cut out for you. Make sure your camera is leveled (tripod, anyone?) and, if you hand-hold the camera, use walls or furniture to align your image. Take several pictures of the same room, from different angles, and experiment at length with your composition. In other words, be creative!
Learn to post-process images
Think back to every interior design magazine cover you've ever laid your eyes on. Remember those beautiful composed spaces, that magic light shining on different objects, and the overwhelming need to transport yourself inside the room? That's 70% Photoshop and 30% sweat. Well, maybe not so much post-processing, but you get the drift. In reality, nothing looks as perfect as a magazine cover, nor should it. We're in the business of selling concepts, making buyers imagine their life in that house and reaching for the phone to make an appointment with your real estate agent, not just presenting four walls and a lamp.
Almost every shot needs some tweaking and the sooner you begin to learn to post-process images, the better for your craft. Not to mention money going in your pockets and not out. In Photoshop or any other similar software, for that matter, you can adjust the colors in your images and the exposure, straighten crooked lines and eliminate unwanted elements; instantly brighten certain areas and use effects to create shots that sell.
EXTRA Tips
Pop-quiz: which are the two most important rooms in a house? You're right: the kitchen and the bathroom. Which is harder to photo-shoot? Right again: the bathroom. With so many reflective surfaces around, it's almost impossible to get a good angle and capture the whole space without becoming a design element yourself. Next time, set your tripod below the mirror and shoot upright or position yourself in the farthest corner possible. For best compositions, put the toilet seat down and don't let loose toilet paper ruin the spa feeling you're after.
Good photographs are never enough! Research has shown that 45% of home buyers look for houses with a virtual tour so it's time to add some magic to your marketing campaigns and boost sales.
Find out what the best features of the house are before even stepping in. Analyze the list, make mental notes and do your best to include them in your shots. Go as far as creating compositions around certain selling features.
Hopefully, these tips will help you become a better real estate photographer and sell more than before! Always remember to be creative, invest in equipment and your continuous education, pay attention to details and lighting conditions. Don't be afraid to ask for guidance and be on a perpetual search for the magazine cover shot.
Julia E. Miller
Julia is passionate about bringing big ideas to life and crafting storylines that connect people on a profound level. She has a strong conceptual and strategic thinking, integrating different disciplines across real estate photography, advertising, technology and experiential marketing. In the last seven years, she worked full-time and freelance for a variety of award-winning weekly and monthly publications.
Related posts