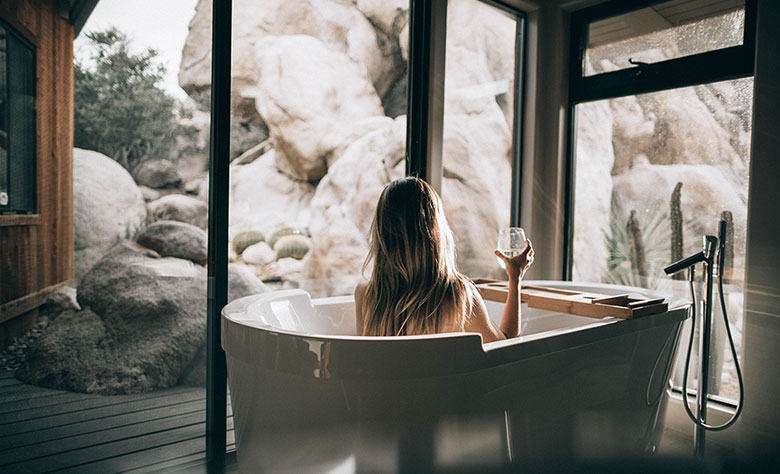 The Basics of Creating the Perfect Spa Bathroom
Diana Smith, 5 years ago
6
5 min

read
2033
Life can get hectic, especially if you live in a bustling urban center, so we should treat ourselves every now and then with a beneficial and relaxing activity. A singular day at the spa in a span of two months can do wonders for your physical and mental health. However, such outings can be quite expensive, not to mention time-consuming. Therefore, so many people choose to create conditions for a pampering spa treatment in their own home. If you have enough funds for such a project and you think you can benefit from it, here are the basics of creating the perfect spa bathroom.
Begin with the broad strokes
Interior designers are introducing greenery as the next prevalent trend in the bathing areas, and this is an amazing trend to follow if you want to create a spa bathroom. However, this only works if your space has an influx of natural light, which is also something that is not a guarantee if you live in big cities. Still, incorporating eye-catching houseplants into your bathroom will create an invigorating atmosphere that befits a Zen zone.
Declutter radically
Stellar nightlife is a big part of why so many people decide to move and work in big cities. However, this also means that their bathroom is usually cluttered with accessories, makeup material, perfumes, and other toiletries. This is simply inexcusable for a legitimate spa zone! So, you need to get rid of all the items that you do not use daily and place them in convenient storage – either in a cabinet outside the bathroom or in a medicine cabinet. If you can, dedicate an entire cabinet or a basket to spa items exclusively.
All the right colors
Thankfully, darker bathroom tones are going out of Vogue this year which is an impeccable timing if you want to turn your lavatory into a spa space. Calming tones and bright primary color are the way to go. As a matter of fact, simple white tiling is the best neutral option for spa background. Shades of beige, organic sandstone appeal and stained wood can offer interesting variations to break up the overwhelmingly white and they make a fine aesthetic choice.
The budget for luxury
If your financial backing is good and you are of the opinion that one should spare no expense when it comes to creating a domestic spa area, install a dedicated spa tub and separate it from the "utilitarian" washing space. If you have an ample square footage in your bathroom and you want to take it up a notch, you can choose one of the cutting edge swim spas in Sydney that come with a variety of exciting features. These elements offer the best quality and the widest range of modes your money can buy. With such an element added to your bathroom, you can practically open up a professional spa in your home. See to it that your spa tub is separated from the rest of the bathroom space visually – either make structural adjustments or at least install a divider or a curtain. 
If your financial options are limited…
Of course, if you have a frugal budget, you can still create a nice spa space. Who says that Zen bathroom must come at a deluxe price? You just need to adopt the right mindset and do some small changes that go a long way. For example, changing the visual style, decluttering and adding houseplants are all manageable options in economic terms. You can invest in meaningful tweaks such as shower-head upgrade. You can easily find the ones that come with a message mode and a selection of other choices. Multiple settings combined with several shower-head holders for convenient height will do the trick. You can have a relaxing waterfall shower after a short session of high-pressure water-flow massage, and you don't have to spend a fortune in order to enjoy this.
A spa is also about scents
Aromatherapy is an integral part of spa treatments. After a long day at work, you can simply relax in your bathtub as the scents of minty plant and essential oils caress your nostrils. They will soothe your body and spirit and acquiring them is a non-issue. For the final touches to your spa bathroom, venture out to shop the most invigorating scents and lotions. Scented candles are also a must for your domestic spa. They are a good interior-design hack that will enhance the effect you want to achieve without too much effort.
Create mood lighting
Of course, scented candles can also provide amazing mood lighting befit of the most luxurious spa spaces, but they will not be enough. You will want to achieve a soft glow to each of the light sources in your bathroom, so you can at least purchase the right decorative fixtures and glass coverage that will soften the harsh glare. Adding a mirror or two will expand the space visually and reflect more light in the room, rendering it brighter.
You can create a Zen retreat in your bathroom by yourself, budgetary constraints or not. The trick is to bring it all down to the core features of what renders certain space a spa-inflected environment, so don't get hung up on gimmicks and expensive appliances! By following a few simple rules and several smart investments, every day can be the day at the spa.
Diana Smith
Diana Smith is a full time mom of two beautiful girls simply in love with interior design and DIY projects. In her free time she enjoys exercising and preparing healthy meals for her family.
Related posts