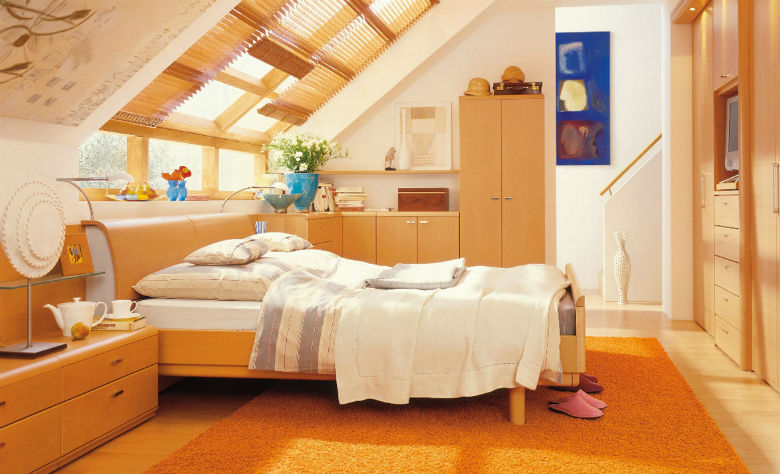 How to create the perfect guest room, with tips!
Lisa Ross, 9 years ago
3
7 min

read
1875
'Happy is the house that shelters a friend…' – Ralph Waldo Emerson
Hotels can be expensive, so why not invite your friends to stay at your place? Do you have trouble in arranging the perfect guest room? Well, don't worry, it's not that difficult. Here is what you have to do!
Making your guests feel comfortable is undoubtedly a challenge, and one of the reasons is because you have to create a welcoming area that should fit to different personalities and characters at a time. So, how can you do that? There are several tips and tricks that might guide you through the process, however, one thing is to be remembered from the early start – you have to adapt to every situation and really get yourself involved.
In order for your guests to feel relaxed and at ease while staying at your place, dedicate time for personalizing the room. The goal – to create a resting area where your friends or family should feel relaxed, comfortable and secure. You can do it too!
Make your visitors feel at home!
'There is always room for one more…' – Popular saying
Small details do the trick in most cases, so concentrate on this! What do you have to do? Think about what makes you feel comfortable and try to reproduce it for your friends. What brings you to that state of contentment? Make the room measure to a high standard of quality, convert it into a genuine oasis! It's not all about providing them a bed where to sleep, it is more than that! Make their time memorable!
Even though this entire activity might be entertaining for you at first, well, being the perfect host might become a real nightmare, if you don't know how to handle difficult situations and if you don't know how to plan in advance.
 Make your overnight friends happy!
Creating a welcoming guest room is fairly simple! Let's stay positive. Here are some simple tips for you to follow!
Buy a comfortable and oversized bed
A cozy bed is a must! Your guests need a place to rest and feel relaxed. Therefore, you need to pay special attention to the bed you order for them. It is probably one of the most important furniture from the entire room. Make sure it is suitable for at least two persons and that is of good quality too. You wouldn't want your guests to have back problems in the morning, would you? Furthermore, don't forget about buying some extra blankets and fresh sheets. They might need them!
Details do a lot in this case. You need to make them feel like they are on a holiday, but at the same time make them remember the moments spent at your place. As a result, a picture of you and your family, a bar of chocolate or a good wine and two glasses should be part of the scene. Another tip that will pay off for you would be to leave them a welcome note on the bed. For sure this will bring a smile on their faces.
Get in an alarm clock, a hair dryer, a calendar or other tools they might need such as a pencil, some papers or scissors. Moreover, a phone in their room would be of great help as well.
Both bed and bathroom linens are a must. You should have this room ready at any time, therefore it wouldn't be a mistake for you to have that extra pair of fresh linens ready for use. Accidents may happen, so you should be prepared.
Have the room in top shape
Above all, your guest area should be clean! Try to keep an eye on the dust and make sure the bathroom is sparkling. Sometimes less is more, so try not to exaggerate with the details or to overcrowd the room with useless furniture.
Decorate the room attentively. For instance, get a single flower bloom in a glass and put it right next to the bed. This will do much more than an over-exaggerated bunch of flowers.
One of the finishing touches that just add up to the entire experience is the quality of the lightning. You need to bring in warm light so pay attention to the type of the light bulbs you buy. Moreover, a set of stylish curtains, together with some intimate candles will do the trick! This is what some call – mood inspiration!
If you want to be perfectionist, you can put a light control near the bed too! This is just the cherry on top!
One of the essential things you must always remember while you have guests staying at your place is to provide them the privacy they need. Window camouflages, window coverings or side panels might be a smart thing to bring in. To continue, try not to choose the guest room next to the child's room! They might not appreciate it too much, if you know what I mean…
It is needless to state that the color of the walls has a great importance on the mood of your guests. Try not to be eccentric with this – no violent colors, please! Keep it simple and as neutral as possible. A working idea for you would be some caramel-colored paintings. Try it and see how it goes!
Keep an eye on the bathroom area
Your guests need their own bathroom area, so choose the room attentively. More than that, you need to make sure it is stacked with all needed goodies – new tooth brushes, a toothpaste and new cotton towels, a good quality soap and shampoo, of course. Try to supply the basic accessories. Everything should be in their right place!
Watch the color combinations
In order to get the room that special touch, you can make some style combinations to be remembered. For instance, try to combine hard colors with soft ones for the accessories you'll be using for the area. This will provide character to the space and at the same time that good night's rest!
Create a relaxing ambiance
Whether you'll have guests for two days or for two months your goal is to make them feel at ease. So, make sure you concentrate on providing the exact things they'll need.  Before they come, put on some soft music and let some fresh air get in. The more you try to make it perfect, the better the odds to succeed!
Last but not least, put yourself in your guests' shoes!
What improvements would you bring in to make it a luxurious guest room? It needs to have a cohesive look, but most of all it needs to have charm. Be practical and try to avoid embarrassing situations in which your guests have to ask for personal items such as q-tips.
One of the projects that need your full attention is the guest area. Even though it might sound simple at the beginning, it can turn out to be a real challenge, depending on how much you want this to work out. Getting your personal touch on the scene is a must!
All in all, there are three important tips you mustn't ignore; these summarize this entire experience:
*Don't be afraid to take risks and put yourself in your visitor's shoes
*Use soft colors and provide practical objects
*Create a fresh, but relaxing ambiance!
 Designing a perfect guest room is a laborious work, however you can achieve it too with a little bit of help. Sometimes it is better just to call an interior designer to get some professional advice, however, some other times you just have to find yourself the optimal solution for your guests, you know their tastes better than anyone. The only thing you have to achieve in the end is to make them feel at home. How? With some thoughtful touches and some awe-inspiring details put in the right place. So, how is the perfect guest room in your own vision?  Think about it… What would you change?

Lisa Ross
A former head writer for some of the most successful online magazines, Lisa Ross is the official writer of Tour Wizard. Widely regarded as one of the most prolific authors in today's online world, Lisa came as a surprise for her audience often providing controversial points of view. She is considered one of the preeminent writers on real estate topics, who is also the fount of creativity and innovation for editors worldwide.
Related posts