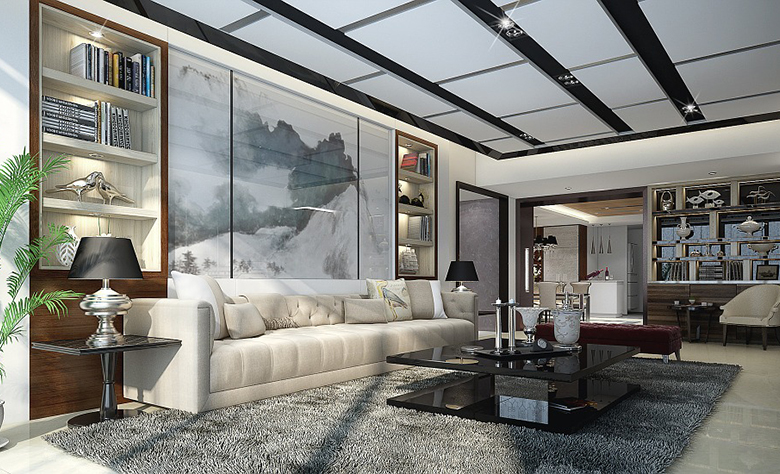 How to easily make your home look more expensive
Diana Smith, 7 years ago
1
3 min

read
1204
Regardless if you are planning to put your home on the market and naturally wish to achieve the best price possible or you wish to make a change to your interior design and make your home look more expensive, you probably think that it will take a lot of time and a fortune to achieve it. Although this can easily happen, there are other ways to do it. A more expensive look can be created without spending your life savings. Just follow these simple and easily implementable steps and you will surely be pleased with the outcome.
Change the wall color
The fact that wall color has an impact on the value of a home seems somewhat far-fetched at first. Still, ask yourself a question: would you invest in a home that has a black colored bedroom and a purple colored living room, to mention just two odd combinations? Probably not. Therefore, choosing the appropriate wall color is a great way to start adding value to your home. The best way to go is to decide on a neutral color palette. Not only will it make your home look more elegant, it will create an additional impression of ampleness. 
Keep things organized
A decluttered and organized home is another precondition for increased value and expensive appearance. Regardless of how artistically liberating they may seem at first, messy environments filled with piled up and unused items significantly take away value and comfort. Therefore, keep things organized at all times. This step will require continual effort, but it will surely be well-worth it and beneficial in the long run. What is more, once you make a habit out of it, it will soon become practically effortless and will not take nearly as much time as it did in the beginning.
Update lighting
Bright and inviting places are favored by the vast majority of people. If you feel that lighting fixtures in any of your rooms could be improved, by all means do it. It will not take a lot of investment, time even less, and the results will be immediately noticeable. Furthermore, take dimmer controls into serious consideration. You may need to add some extra money in acquiring them, but they will allow you to control the illumination and create the atmosphere according to your current mood and occasion, both of which are features of expensive environments.

Less is more
What you started by keeping things organized and decluttered can be further improved by adopting an overall 'less is more' approach. What this means is to give single items special position within your rooms instead of opting for collections or bundles. For example, a single centerpiece per room such as a vase, a sculpture or an original piece of furniture will provide an impression of elegance and class more than a series of similar items. At the same time, a 'less is more' approach further increases volume of rooms, which is another benefit highly sought after.
Add a touch of art
Decorate your walls with artistic pieces and increase the visual appeal and value of your home. These works of art do not have to be expensive ones; carefully chosen works of unknown or less known artists will significantly improve and enrich the space. Also, browse the collections of clocks online. You will surely be able to find a wall décor clock that will add a touch of class to your home and enhance the artistic atmosphere furthermore.
As you can see, making your home look more expensive in a highly affordable and easily achievable manner requires a change of interior design philosophy. Follow these steps through and the success will surely come. Your home will look more posh and certainly more comfortable, both of which being more than welcome in any type of home environment.
Diana Smith
Diana Smith is a full time mom of two beautiful girls simply in love with interior design and DIY projects. In her free time she enjoys exercising and preparing healthy meals for her family.
Related posts