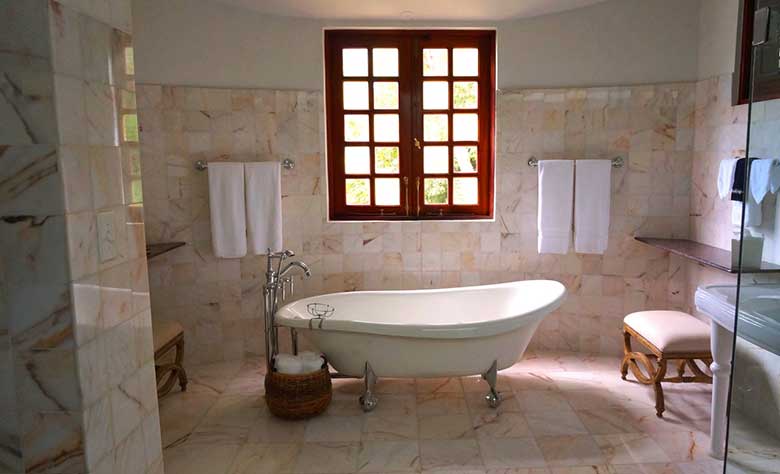 Transform your ordinary bathroom into vintage bliss
Diana Smith, 7 years ago
0
4 min

read
1043
Even though bathroom is probably the smallest room in one's home, for a lot of people it is also the most important room where they can relax and unwind after long day and have some time all to themselves. Therefore, bathrooms should be decorated and made up done according to individual taste; they should also be given the same level of attention as other rooms. There are many ways to decorate and transform both small and big bathrooms, but vintage style seems to be very trendy at the moment, especially since this style can be adjusted to suit many different temperaments and sensibilities. If you're interested to learn what changes are necessary to create a vintage-style bathroom, keep on reading.
Plumbing
If you have the will and means to go all out in transformation of your bathroom, the vintage style can be easily achieved by changing the plumbing and bathroom utilities. For example, installing a claw-foot bath tub can be the first step when it comes to some serious renovation work. Also, pedestal sink and toilet with detached tank and chain handle scream vintage and can look and actually be very effective, especially with today's technology. When doing some work on your pipes, opt for dull and muted metals because their colors create an old-fashioned, vintage vibe.
Light fixtures
Creating a vintage-like atmosphere in your bathroom wouldn't look complete and unique with lights that clearly belong to modern age. If you have just one ceiling light make sure to install an interesting chandelier that would evoke the feeling of the old days. On the other hand, a few small wall lights can also be turned into a vintage lighting solution with proper covers and other accessories. Of course, light as many candles as you want, while spending time in the bathroom, because this is not only appropriate for vintage-style look, but the candle light is actually very relaxing and soothing as well.
Storage solutions
Distressed wooden cabinets are perfect for a vintage-style bathroom. If you have an old wooden cabinet, with some cool DIY projects you can decorate it yourself or even play with decoupage if you want to make more details. In case your bathroom is small and cannot fit floor cabinets, use the empty space on walls and under the sink. For example, wooden shelves with curtains look very vintage and you can even place small wooden ladder or old suitcases and trunks under the sink to store some of your bathroom necessities.
Floors and walls
If you want to do some extra work in your bathroom, but are still reluctant to tackle the whole renovation process regarding plumbing, you can achieve a good vintage effect by changing up the tiles in your bathroom. This being said, the best kind of tiles you can choose for a vintage effect are marble and stone tiles as well as wood flooring. Tiles can cover your walls as well, and not only floors, but if you have a certain budget, you can achieve a great look with some vintage-inspired moisture resistant wallpaper.
Proper décor
Even something as fun and easy as simple decorative bits and pieces can transform the look of your bathroom. If you don't have anything in your possession, that you could use for décor, make sure to visit thrift stores and garage sales because you can find a variety of vintage-like items that can be perfect for decorating bathrooms in this manner. You can use wooden holders for hygiene necessities and fill the glass jars with bath salts or flowers for even more details. Also, curtains can complete the whole look. Apart from the already-mentioned shelf curtains, you can use ones with vintage patterns for bath tub or shower as well as windows. Moreover, mirror frames can be easily decorated with stones and colorful glass to fit the ambience perfectly. You can even hang pictures on the walls that depict some vintage-like scenery, which also present great accessories for this fun project.
Before you start doing any work, make sure to create a plan first. That way you'll be able to calculate your budget as well as decide on the amount of effort you want to put in this project. Repurposing and DIY projects can help a lot with décor, and there are also tons of ideas online that could easily boost your creativity and inspiration.
Diana Smith
Diana Smith is a full time mom of two beautiful girls simply in love with interior design and DIY projects. In her free time she enjoys exercising and preparing healthy meals for her family.
Related posts