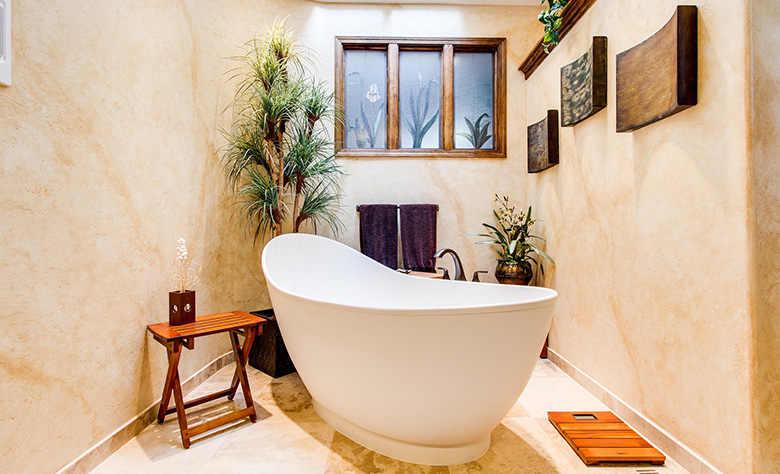 6 Smart Tricks to Make Your Bathroom Look Luxurious
Patrick Adams, 4 years ago
2
5 min

read
1277
The kitchen takes first place in expenses, as renovations can take quite a bite out of our budget. The runner-up is the bathroom. Marble tile, whirlpool baths, and rain showers are just a few examples of why bathroom renovations can often take a lot of money to go through. Apart from upgrades, is there any other way of achieving that luxurious, high-class image? There are several things you can do to make your bathroom more comfortable, and give it a touch of personality along the way.
Color
One of the easiest ways to transform a home is to repaint the walls. This simple trick works with your bathroom as well. A black and white contrast does wonders, making the room seem more spacious than it is. Whether it is a smaller bathroom or a large one, this simple combination will help smaller details stand out. If this isn't to your taste, there really is a huge variety of combinations.
Why not try out a wallpaper? Even though it may be time-consuming and costly, you might like the style. This type of change can easily be undone and is a good decision if you're not thinking of a full renovation any time soon.
Tiling
If nothing else is to your liking, you could take the more expensive route and tile your bathroom. Whether you're going for a playful tone or a classy marble tile, there truly is a wide variety of choices. Some recommend neutral colors and simple designs for bathroom tiles, as they'll always be trendy. On the other hand, if you find single-color tiling boring, feel free to express yourself. Whether you choose glass tiles or simply play with colors to create patterns, there's enough room to have some fun. Another option is simply tiling halfway up the wall; this creates a sense of space and saves some money along the way.
Lighting
If you can get the right combination of lighting and color, you're more than halfway there. First of all, if you have a skylight, it is obvious how much of a luxurious lighting setting you could have. Natural lighting always makes the strongest impact, but sadly, not everyone has natural lighting as an option. Apart from bringing in some light, do some thinking on the source. For instance, instead of a traditional light bar above your bathroom mirror, try placing a sconce or two on the sides of the mirror. Overhead lighting is also a good choice, as the atmosphere it creates is often overlooked. If you've spent a lot of time gathering the right accessories, mats, and jars for your bathroom you want to shed the proper light on them.
A Custom Touch
What most people don't realize is that they can achieve the luxurious look they're after without much advice in the first place. In most cases, it's about self-expression. In high-end bathrooms, you'll find a stool or an ottoman, for instance. You won't have trouble finding a use for them, and they'll personalize your bathroom somehow. Also, art is second to none in creating a grandiose setting. If you like a certain artist, why not decorate a wall with one of his pieces? If you like being classy, a vintage record player might be right up your alley. Jars are also an increasingly popular way of storing your bathroom supplies. Another way to use these jars is to fill them with potpourri, to create an enjoyable aroma.
Do you have a bathmat? Apart from keeping you safe from slippery tiles, they help a bathroom look complete. You'd be surprised at the wide variety of rugs and custom linoleum mats you can buy to fill up that space. Keep them clean, and they'll keep your bathroom looking fancy with beautiful colors and patterns.
Upgrades
When it comes to upgrades, people often fear that it's going to be a costly endeavor, but this doesn't necessarily need to be the case. What's most important is that you don't forget any part of your bathroom, as you want the pieces to work together. For example: if you want to exchange your shower heads for an overhead rain shower, you may want to upgrade your shower screen along the way. There is a wide variety of luxurious shower screens which won't take a large bite of your funds, and will only add to the luxury.
A Green Touch
We've already mentioned potpourri, but how about another natural decoration to fill that empty corner? A vase with your favorite flowers shows you have taste, and makes the room itself seem larger. It's no wonder that people decorate their homes with flowers wherever they can. While it is true that less is more, when it comes to these types of decorations, you won't make a mistake.
Final thoughts
The bathroom, alongside your kitchen, will consume the most money when it comes to renovation and improvement. Spending a lot of money isn't necessarily the way to go if you want to create an image of luxury. People are often surprised at the results they get after playing with colors for a bit. Let your personality spill, and put up a few flowers or bring an accessory or two into the bathroom. If wallpapers aren't your taste, tiling is still an option, although a costly one. Remember that you want all of the pieces to fall in perfectly with each other. Lastly, don't forget that light can only help with the image you're aiming for.
Patrick Adams
Patrick Adams is a freelance writer and rock-blues fan. When he is not writing about home improvement, he loves to play chess, watch basketball, and play his guitar. More than anything, he loves to spend his time in his garage, repairing appliances and creating stuff from wood.
Related posts