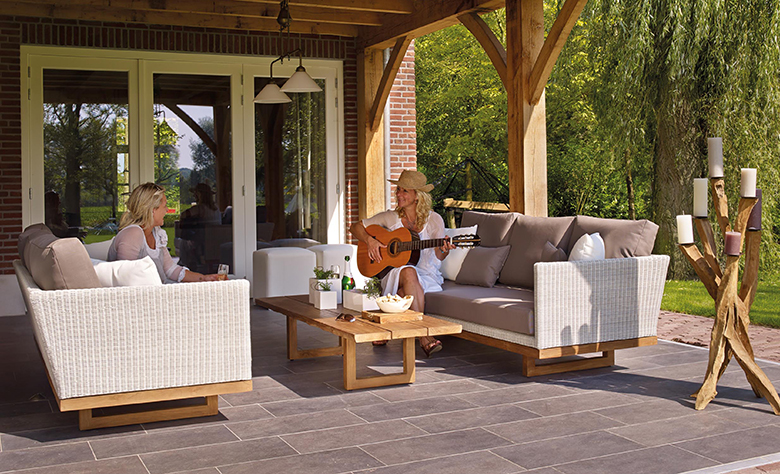 How to Choose Outdoor Fabric for Your Garden
Lana Hawkins, 6 years ago
0
4 min

read
1074
Designing a stylish garden entails, among other things, choosing a type of fabric for your outdoor furniture. Although you might think that all you need to do is pick the one that works well with the general design, there are several important aspects to consider, too. You don't want to buy a beautiful material and see it fade and tear. Thus, it's important that you take some time to find out which type of fabric is right for you. Not only will you have a lovely fabric, but you'll also be able to enjoy it for a long time.
First things first
Before starting your design project, you need to assess your skills in upholstery-making. If you already have some experience in the field, making new cushions or covers will be a piece of cake. However, if your sewing skills aren't that great, you can sign up for a class, watch online tutorials or ask someone to help you out. Otherwise, you risk making a costly mistake, having to buy new fabrics and starting all over again.
Important factors to consider
Aesthetic appeal is only one of the important factors you need to consider when choosing an outdoor fabric. Besides beautiful, the fabric must be water-resistant, especially if you'll use it for your furniture. You can easily bring cushions inside, while large pieces are likely to remain outside. Another important factor is breathability of fabrics designed for seating and covers. If the fabric you select is highly breathable, your cushions will be much more comfortable and you'll minimize the risk of mildew and mold.
If your outdoor furniture is exposed to sunlight throughout the day, you should pick a UV-resistant fabric to ensure its durability and color fastness. Finally, you should choose fabrics that are easy to clean and maintain. Typically, fabrics with a single-side coating retain dirt within the weave more, so make sure to clean them regularly.
Different types of fabric
Depending on the use, you have plenty of options when it comes to outdoor fabrics. The general rule when choosing an upholstery fabric is that it should be durable, stain-resistant and easy to clean because it'll be used for sitting. Here are several popular options:
Cotton canvas is an affordable fabric that will provide you with an opportunity to create your own design. It's a perfect choice if you want to add character to your garden by painting your fabric and creating an interesting pattern. Of course, you can also buy a pre-dyed one and fit it into the general design.
Polyester and acrylic are synthetic fibers that are durable, strong and resistant to mold, mildew, fading, shrinking and wrinkling. Solution-dyed acrylic is quite soft, breathable and dries quickly, while woven acrylic is more resistant to fading than printed acrylic or polyester fabrics.
Vinyl is a plastic but recyclable material which you can use for backings. Since it's quite hardy and has a plastic feel, you shouldn't use it for cushions or other pieces that will be in direct contact with your skin.
Olefin fiber is suitable for cushion inserts and covers, but due to its hardiness, it has a plastic feel. Nonetheless, it's a durable material and resistant to mold, sun and different weather conditions.
When cleaning your outdoor fabrics, you should find out what kind of maintenance they require. For example, you shouldn't dry clean or tumble dry synthetic fibers, such as polyester or acrylic. In addition, you should clean spills and soils as soon as possible because mildew can grow quickly.
Creativity and design
After considering all the important factors and finding the right type of fabric, you can consider its aesthetic appeal. Decorating with fabrics is a great way to introduce bold accent colors and different patterns into your garden and create an authentic look. If your outdoor space features a monochromatic design, a play of patterns and unexpected pops of color will break the monotony and create an ambiance of authenticity.
Outdoor fabrics will elevate the design of your garden and create an interesting look. However, you need to find a fabric that is right for you and that will embellish your garden for a long time.
Lana Hawkins
Lana Hawkins is an architecture student and a crafty girl from Sydney. She enjoys writing about home decor and she does it regularly for
Smooth Decorator
. Also, Lana loves cooking for her family and friends, and spending time in nature.
Related posts