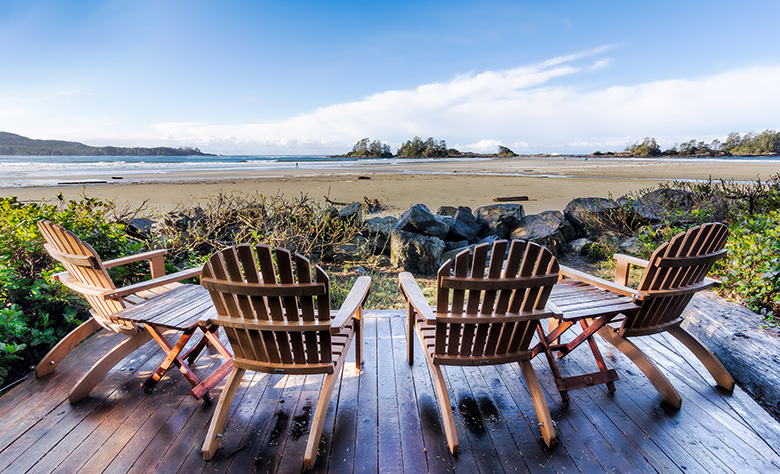 Deck for Better Outdoor Living
Patrick Adams, 4 years ago
0
4 min

read
955
When you come to think of it, the deck is the most-used section of the backyard. You can relax here reading a book and sipping coffee or you can throw a barbecue party. Whichever function you find for the deck, there is always room for improvements. Here are 6 upgrades that will make the space stylish and functional:
1. Playing with colors
One of the dullest aspects of any deck are the colors. The palette is not very rich as it just ranges between different shades of brown because of all the timber. That's why a can of paint and a few meters of vinyl can do wonders for your deck and reinvigorate its look in no time. Not to mention cheaply. You can paint a logo in the center of the deck or create a playing area for kids with each floor plank colored differently.
2. Adding a fire pit
Having mentioned timber, you are probably thinking that a fire pit on the deck is a bad thing, right? While it is true that fire and wood don't mix well, this is not an obstacle for including a fire pit in the design of the deck. This part of the backyard comes with a slight elevation, so you can make whole to the ground and lay it with stone or concrete. This way, the hearth will never come into contact with wood so it will be safe to use. A fire pit will allow you to stay out late even when the weather outside is chilly.
3. Closing the deck with railing
Let's face it, most decks aren't raised very high. In fact, they often sit in level with the ground so homeowners never really consider adding a fence or a rail as a real option. However, a simple handrail will round up the deck and close it in the sense that it will become a space of its own. Furthermore, it would be easier to enjoy the view from the deck if you have a rail to lean on. Finally, children will be safer on the deck if the railing is made low enough to prevent them from falling.
4. An outdoor living room
Comfortable furniture is a top priority in the living room. Should the deck be any different when it too is a space intended for lounging? Instead of rickety lawn furniture that is uncomfortable and often perilous to sit in, you should go with a comfortable couch. Apart from comfort, the outdoor living area should be stylish as well. You get a couple of cushions that match the design of the garden to incorporate the deck in the wider outdoor living space.
5. A retractable pergola to protect the deck
You are probably thinking that furniture will get wet outside since it would be exposed to the element and you are right. However, if you cover the deck, then you can store whatever you like underneath the deck pergola. The design of the pergola will prevent any water from reaching the timber down below. In addition, certain models like the MUSE retractable pergola have a wind rating up to Beaufort class 11. This means they can withstand winds up to 117km/h. Add the ability of remote control to the pergola and you the perfect upgrade to the deck.
A well-illuminated deck
Have you ever found yourself stumbling around the deck at night because the light coming from inside the light was not strong enough? If you have, then you know how important deck lighting is. It needs to have a light source of its own in the form of either wall-mounted LED lights or solar lights positioned in its corners. There are other lighting alternatives but simply aren't stylish enough to decorate your deck. If your home improvement budget is large enough, you should consider installing motion sensor lights that turn on automatically.
Conclusion
These 6 upgrades are just the tip of the iceberg when it comes to upgrading your deck. One day while you are sitting in a cozy couch, sipping a Piña colada under a pergola, your imagination will probably think some more improvements to the deck. The point is that the upgrade should not be aborted until you are 100% satisfied with the look and functionality of the deck. After all, that is the social hub of your backyard.
Patrick Adams
Patrick Adams is a freelance writer and rock-blues fan. When he is not writing about home improvement, he loves to play chess, watch basketball, and play his guitar. More than anything, he loves to spend his time in his garage, repairing appliances and creating stuff from wood.
Related posts