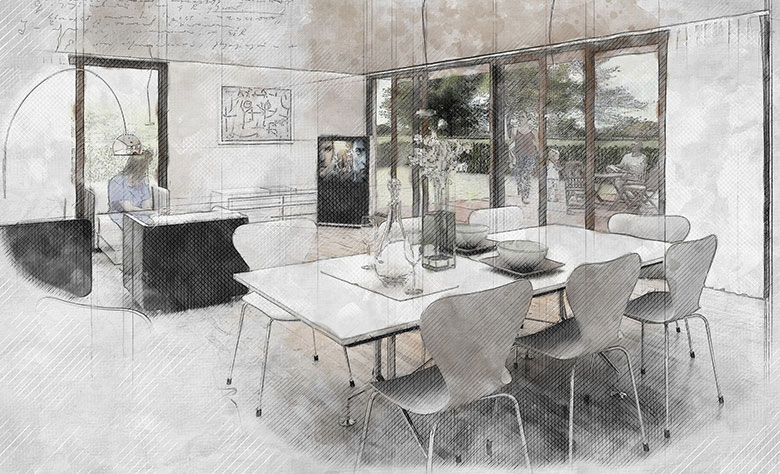 A Detailed Look at Interior Design Services
Alyssa Moylan, 5 years ago
0
3 min

read
867
Interior designing generally refers to the usage and inclusion of science and technology in the art of designing the inside of a house or a building with the help of some highly dignified professionals. This helps create a healthier home with a soothing and comfortable atmosphere.
An interior designer is someone who chalks out a plan, does his research, coordinates with his team and then carries out a project.
The work of interior design services, on the other hand, includes space planning, programming, conceptual development, analysis, inspection of the site, construction management, execution of the designs and interaction with the stakeholder of the project. Now, let's try to better understand this craft.
Two Types of Interior Designs
There are generally two different types of interior designs – residential and commercial.
Residential designing involves designing a personal residence, usually a building or a flat. A house can also be restructured and can take a few months for completion of work.
A commercial interior design service creates space for a variety of commercial setups such as:
Retail stores which include malls, specialty stores, showrooms, departmental stores, shopping centers, visual merchandising.
Private firms and the employment in it.
Exhibitions carried out in galleries, unique designs for showrooms, exhibition gallery, exhibition halls, and museums.
Designs for corporate office buildings like banks.
Traffic buildings, such as airports, bus stations, subways, etc.
Institutions include schools, colleges, universities, financial institutes, religious facilities, government offices, etc.
Healthcare includes medical offices, interiors of the hospital, dentist chambers, assisted facilities for living, laboratories, etc.
Sports consist of a gym, swimming rooms, basketball halls, stadiums, etc.
Interior Design Services
#1. Consultation
Interior design services include a meeting of the service provider with their client. A client will discuss his ideas with the service provider on his preferences, likes and dislikes, color palettes that he would like to be used for the interiors and the like. Also, a discussion with the client will have the service providers create a better plan, his client's preferences.
#2. Plan
A good interior designer will ask you to share your ideas. This way they will bring out your style that shall be reflected in the house, they will chalk out a plan to meet your needs, and if you ask for a certain pace at which the work must be completed then you will also be provided with such a facility.
You can also be part of the planning process.  From the look of the furniture to recommendations on colors, you will be part of the designing process. Some interior designers also provide online services where you can list your preferences.
#3. Decorating and Styling the Interior
A good service provider will always be a good listener, in the first place. He will listen to the client's needs and requirements chalk out a plan and work accordingly. When the service provider pays attention to client requirement, the designing process is smooth when both are on the same page.
#4. The Lighting Facility
A good lighting will enhance the look and the beauty of your room. This is done by the layering of different light effects and creating the exact lighting that the client wants.
There are plenty of interior services provided by interior designers beside the above mentioned four. To know them you can seek the help of a professional or do your research on the internet.
Alyssa Moylan
Alyssa Moylan is an ordinary woman from Australia, a writer by day and a reader by night. She writes on various topics like home improvement, business, lifestyle and travel. She likes to think of ways on how to solve daily life problems of people. Follow her on Google+ and Twitter.
Related posts