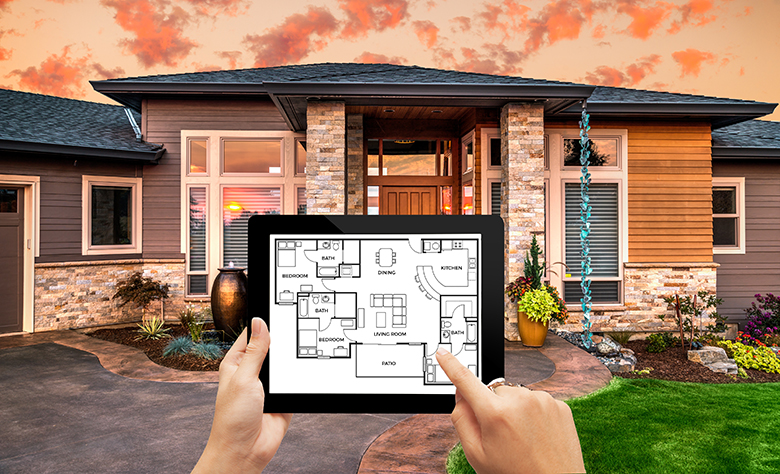 11 Free Apps That Can Make Home Renovation Easy
Nick Stillman, 6 years ago
0
4 min

read
2537
Renovating your home can be an absolute whirlwind of an experience. From start to finish, there is a myriad of different hurdles you'll need to master, from choosing paint to shopping for new furniture to measuring every inch of your home. Regardless of whether you are renovating a bathroom or putting a new story on your house, your smartphone or tablet can be your best friend. There are a million apps out there targeted specifically to homeowners who are remodeling. To help you wade through those that are a waste of time, here are a few choice selections that are free to download and could save you a mountain of stress. Thanks us later!
The Big Plan: House & Garden
Magic Plan – This app is great for creating floor plans. It measures rooms from photos you take of them. From there you can easily add objects, notes or attributes. Get it here.
Homestyler Interior Design – A handy app for virtually trying out wall colors, decor, furniture from real brands. Very inspirational! Get it here.
Roomle – Roomle is an award-winning floor planning app and for good reason. It's an excellent tool for setting up and visualizing interior design ideas in 3D, AR and VR. You can easily 'sketch' using your finger, precisely adjust angles and dimensions and populate your virtual room from a 3D catalog with a huge range of trendy and elegant furniture. Get it here.
Yates – My Garden – Your garden can be a huge asset to your home, particularly if you are renovating to sell. Yates My Garden is a great tool for designing and maintaining a beautiful garden. Use the visualizer to compose how you want it to look digitally and maintain your garden properly with custom alerts and updates. You can also help keep on top of pests and weeds with the problem solver tool. Get it here.
Design Ideas
Houzz Interior Design Ideas – Stuck for ideas when decorating your home? This app will be your savior. It provides access to over 10 million hi-res photos to inspire your selections for anything from rugs to wallpaper. It's also got a "view in my room" function that allows you to 'place' an item in your own room. There's also a handy "sketch" function and access to advice from fellow homeowners and professionals around the world. Get it here.
Pinterest – You may already use Pinterest for organizing your own pictures or exploring new style ideas. It can be an indispensable resource when you're renovating too. Get it here.
Buy and Sell Items
Chairish – A great place to buy and sell used furniture, art and trinkets. Get it here.
Build Bits – This one is for the DIYers. Build Bits is an online marketplace where you can buy and sell surplus materials for your renovation – a really good way to save money and do your bit for the environment at the same time. Get it here.
The Technical Side of Things
TourWizard – While not exactly a floor-planner, nor a design tool, this easy to use virtual tour platform can help home sellers get their property in front of millions of clients across the globe. All virtual tours are blazing fast, Search Engine Optimized and online in minutes, using any device with an internet connection. Not to mention the abundance of features, from interactive maps and amenities, to open house scheduler, social media syndication, brochures, and many more. First tour is free! Get it here.
Spirit Level 3rd: Pro Bubble – Taking the standard spirit level into the digital age, this app is all you need for accurate and convenient surface level readings (with a bunch of clever digital features too, like magnification and an auto rotate function that will save your wrist from a world of pain, lest you'll need hand therapy). Get it here.
Airtasker – You might already use this one in your day to day life, but don't forget how useful it may be when renovating. No matter what job you need doing, just post it on the app and wait for the help to come to you! Get it here.

Nick Stillman
Nick Stillman is the content coordinator for Sydney-based creative digital agency If You Build It, working alongside their digital strategy and content marketing team.
Related posts