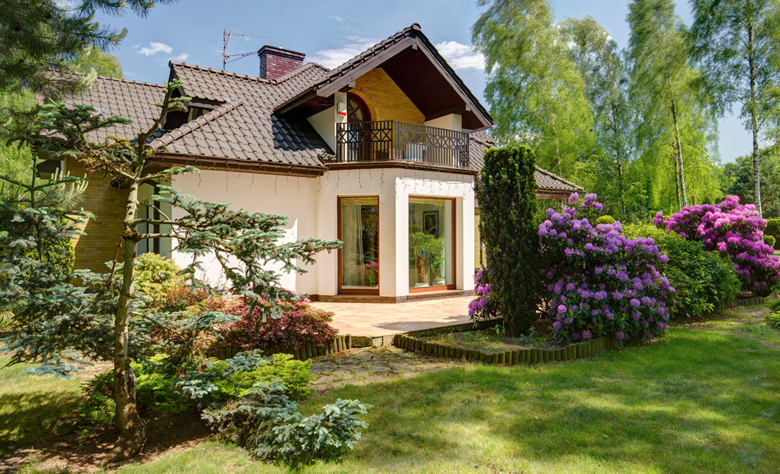 6 Landscaping Tips to Increase Your Property's Value
Lana Hawkins, 7 years ago
1
4 min

read
1288
Your home should be a sanctuary that reflects your taste and values. However, no matter how comfortable and rich your indoors is, the landscaping is the first thing people will notice. And if your home does not have curb appeal, the property value could decrease, even though the interior design is just marvelous. Learn a thing or two about your garden and achieve the best possible appeal.
Add some Color and Form
In order for your garden to be easy on the eye it has to be colorful and to have structure. Add some welcoming planters with clipped topiary to make the whole look more formed and neat. Have lots of pots filled with annual flowers to brighten up the garden with sweet smells and calming colors and simply lift up the spirits of the whole property. To make the landscape even more appealing, you can group the pots according to the colors or species and bring more structure to the whole look.
Limited Number of Plant Species
Overloaded garden with lots of different plants is just hard to maintain and it is on a good way to become neglected. Minimizing the species of plants will also provide uniform and organized look. However, you do not have to be too strict with the rules. Plant diversity is good for the look and structure of the garden and it encourages biodiversity. Not only that the interesting looks will be more appealing, but the green and eco-friendly garden is one of the top priorities of any potential buyers.

Cherish the Trees
Living in a street that is lined with lush trees will significantly add to the value of your home. However, if you are not of such luck, you should change things a bit. The trees are valuable for two reasons. Firstly, they are helping the environment because they remove carbon dioxide and other pollutants from the air. And secondly, they provide a nice shade for your home and neighborhood, creating a much more pleasant atmosphere during the hot seasons. Not to mention how much stress could you relieve by simply lying under your tree, reading a book or simply enjoying the fresh air. Plant a few trees in your garden and completely transform the energy of your whole home.
Lay New Lawn
The key to successful landscaping is a good, green base, which is your brand new lawn. Patchy, dry and yellowish lawn is never appealing, and it leaves the impression of a neglected cheap home. To avoid that you will need some lawn seed blend that usually consists of fescue and rye grasses and simply sprinkle it all over your shabby lawn. Set up a few sprinkles to encourage growth and give your home a new, green and healthy look.
Outdoor Lighting
If your garden looks magnificent by day, there is no reason it should not look the same during the night. Install fixtures along the driveway and paths in your garden and make a big entrance when hosting a party or simple family gathering. Circle your home with some cute fixtures and brighten up the garden with lighting behind the bushes or trees to create fun silhouettes. The possibilities of landscaping with lights are endless, and if you do everything right, your home will only be more safe and valuable.
Edge the Lawn
As a home owner, you are prone to falling into cost traps, one of which is your lawn. An edged lawn always looks vibrant, healthy and it gives away an easy-to-maintain look that everyone strives for and downsizes your costs. As soon as the prospective buyers see how well-groomed your lawn is and how concerned you are about the upkeep of your property, the more interested will they become. Additionally, edged lawn means no pesky weeds and weed whipping is required.
When it comes to the first impression, the exterior design and proper landscaping are the first signs of a valuable home. Adjust the landscape to your needs and preferences, but always make sure everything is in balance and in accordance to the design of your home.
Lana Hawkins
Lana Hawkins is an architecture student and a crafty girl from Sydney. She enjoys writing about home decor and she does it regularly for
Smooth Decorator
. Also, Lana loves cooking for her family and friends, and spending time in nature.
Related posts