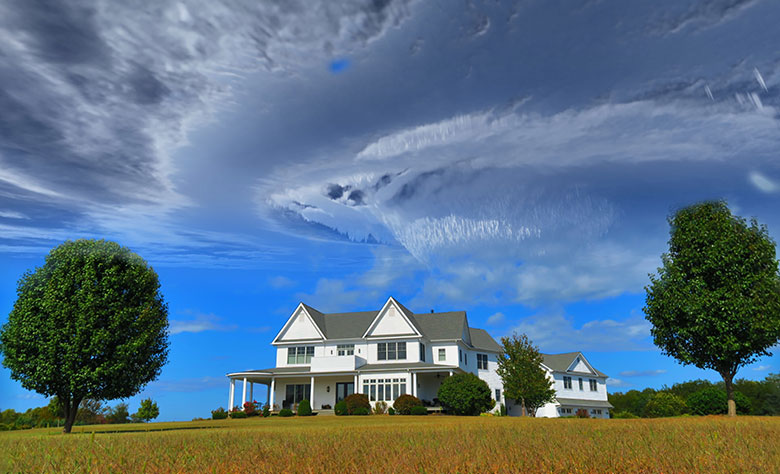 How to Prepare and Protect Your Home from Risks
Lana Hawkins, 5 years ago
1
4 min

read
1139
Not only is your home your most valuable property, but it's also your sanctuary. Therefore, it's of the utmost importance that you safeguard it against damage and other possible risks. Furthermore, you also need to prepare for any unexpected problems and accidents. Especially when it comes to natural disasters. By assessing the current condition of your home and learning about potential risk exposure, you'll be able to ensure your and your family's safety.
Perform a home audit
By thoroughly evaluating your home's current condition, you'll be able to identify possible risks. It's important that you check your house from top to bottom. If you don't know how to perform a house audit, better seek professional help.
Nonetheless, even if you do hire a professional, you should still make sure they didn't miss something. There are several important areas that you can check, including your plumbing system for drainage issues and HVAC system for any malfunction. Also, see whether your outdoor structures are in good condition, such as your deck, shed and fence. Issues that require professional expertise include electrical and wiring repairs, leaky roofs and structural problems. After a thorough assessment, make sure to fix every problem and hidden issue properly to enhance the general condition of your home.
Schedule regular maintenance
Regularly maintaining your property will keep it in great condition and minimize the risk of possible damage. This entails routine cleaning, landscaping, fixing cracks, updating your systems, etc. Even some simple maintenance tasks, such as clearing out your tools, kids' toys, cleaning supplies and other items, can reduce the risk of accidents. After all, nobody wants to trip, fall, slip or cut themselves at home.
Apply for insurance
No matter how much time you dedicate to securing and protecting your home, it's never truly safe until you get property insurance. When applying for insurance, ask questions about your home contents and make sure your house is completely covered. Before sealing the deal, it's of the utmost importance that you research your options and apply for insurance that will protect your property in a range of different events like:
Natural disasters;
Theft;
Explosion;
Fire;
Intentional damage;
Legal liability.
Only then will you be sure that your property is completely covered by your insurance.
Safeguard against intruders
Home break-ins and burglaries can happen to anyone, so make sure to protect your home against intruders. There's plenty of security measures that you can implement to reduce these type of risks. Installing security cameras, alarm and exterior lighting that will illuminate all of your entrances and dark passages are some of the essential steps in securing your home. You can also install safety locks on doors and windows and keep your valuables in a safe. It's a good idea to ask your neighbors to keep an eye on your house while you're away or call the police should they suspect that anyone might be at your home.
Don't forget about natural disasters
Another important thing to consider when protecting your home is its exposure to environmental risks, such as floods, hurricanes, tornadoes, and earthquakes. You should find out whether your home is located in a high-risk area. However, even if your home isn't exposed to natural disasters, you should still make sure that it's insured in such cases. There are also some safety measures you can implement, such as securing doors and windows against tornadoes and hurricanes. Installing windows with an inner layer of polyvinyl butyral (PVB) and doors with a steel plate will protect these vulnerable areas. In addition, make sure to inform yourself about what you should do in the case of natural disasters.
Protect against fire
Fireproofing your home is a simple safety measure that can protect your family and your property. You should buy several fire extinguishers and check their pressure gauges regularly. High-quality smoke detectors should be installed on every floor near possible fire hazards, such as stoves and radiators. In addition, you should also consider installing a fire escape ladder if you have a two-story home. Finally, it's important that you create a fire escape route and familiarize your family members with possible exits. You should always have a list of emergency contacts in a visible place for emergency situations.
Although you can never completely eliminate all the risks, there are numerous measures you can apply to protect both your family and your property.
Lana Hawkins
Lana Hawkins is an architecture student and a crafty girl from Sydney. She enjoys writing about home decor and she does it regularly for
Smooth Decorator
. Also, Lana loves cooking for her family and friends, and spending time in nature.
Related posts