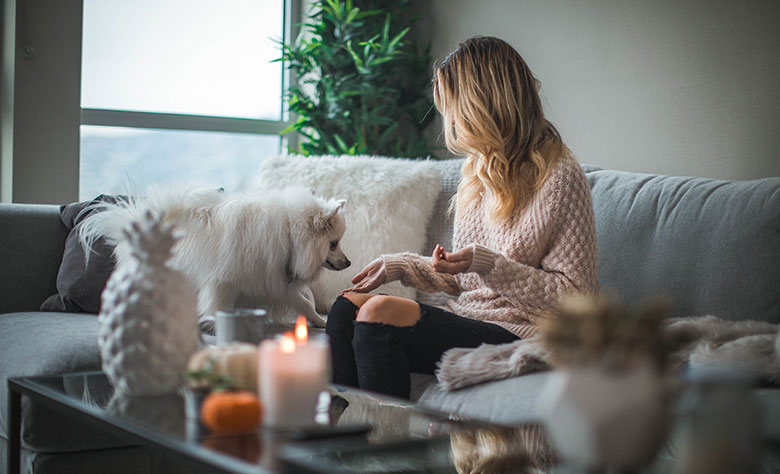 Cheap, yet Chic: 6 Ways to Decorate a Living Room
Diana Smith, 6 years ago
1
3 min

read
1449
The living room gives you a lot of space for experimenting with styles, and since it's the room in which a family spends most of their time, it should be decorated accordingly, offering everyone comfort and great ambience. You may think that a chic living room costs a fortune but think again. With only a few affordable and creative ideas you can decorate a stylish space everyone will be happy to spend their time in.
Black and white for lux
Whether you choose to have a room completely inspired by black and white tones, or you incorporate just a few black or white details, these two colors will make your room look stylish and luxurious. This is especially true if you choose black as your base color for all the furniture and use gold as an accent color. On the other hand, a white on white room offers a clean, classy look while making the room brighter. White walls combined with white floors and light grey, beige or clean white furniture will make the room visually bigger. How the light will bounce off the white shades… Perfect illumination!
Colors make a difference
Colors are everything when it comes to interior design. Neutral hues have always been synonyms for elegance and class. So, switching from radiant to subtle shades is one of the best ways to get that chic look. Think about mixing white and grey, beige and blush or even black and white. White walls combined with light grey furniture and beige accents are the perfect way to create a clean and chic look. Think about beige walls, light beige tiles or wood floor, matched with a teal green sofa and a white rug.
Mix the prints
If you want to add more style to the room, introduce various prints. However, try not to go too far, but stick to only two contrasting patterns. Cushions and carpets with animal print are a great way to add texture to the plain walls and monotonous furniture. Floral print curtains can match the pattern of your throw pillows. You can also mix and match stripes and polka dots if you'd prefer geometrical patterns.
Stay practical
Invest in furniture and upholstery that can be easily replaced or moved around. Removable sofa and cushion covers are a better, cost-effective alternative to throw pillows with sewed on covers. Also, pay special attention to the maintenance of your air conditioning system, because you can only have a pleasant ambience if the room temperature is optimal. If you still don't have a proper air conditioning system, air conditioning Five Docks will offer you the best service and make your living room the most comfortable place in your entire home.
Rearrange the furniture
One of the most affordable solutions to redecorating your living room is moving all the furniture around. Switch the places of your sofa and your armchair, place your TV set against a different wall, rearrange the wall art and the shelves and you'll get an entirely new living room.
Style up the bookshelves
While you may have thought that bookshelves are only meant for displaying books, they're actually perfect for various knickknacks as well. Adorn them with picture frames, your traveling souvenirs, decorative objects and small floral displays. Try to create a cute little accent piece that gives the room a completely new feel.
The living room gives you a myriad of options when it comes to decoration, so choose wisely. If you want a chic yet affordable look, implement some of the ideas we've mentioned and you're in for a treat. Neutral tones, a mixture of prints and patterns, a different arrangement of your furniture, and styled up the bookshelves will offer you just what you need.
Diana Smith
Diana Smith is a full time mom of two beautiful girls simply in love with interior design and DIY projects. In her free time she enjoys exercising and preparing healthy meals for her family.
Related posts