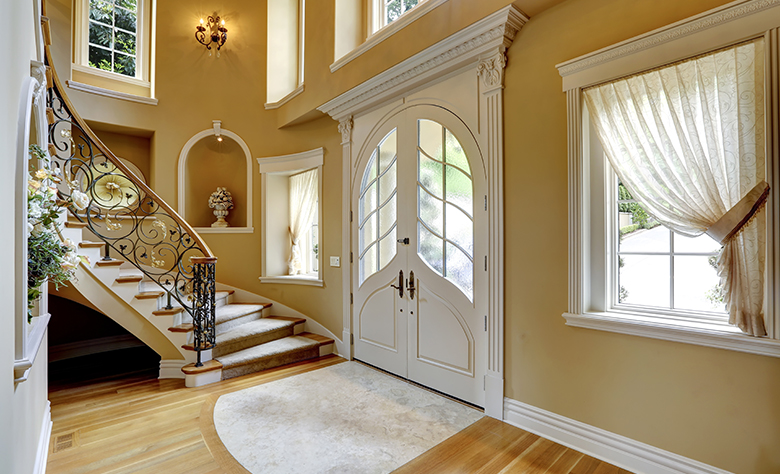 Interesting Ways to Spice up Your Hallway
Diana Smith, 6 years ago
0
4 min

read
1598
Every home buyer dreams of big, modern kitchens, with top appliances, and fully renovated bathrooms, but hardly anybody mentions the hallway leading to all that beauty. It's a neglected space, often without a drop of design, which should get the same attention as the rest of the house does. This is especially important for entrance hallways. If you want to feel warm and pleasant the moment you step inside your house, it's time to get creative with your hallway design. It may seem like there's not a lot of room for improvement in such a relatively small space, but the following ideas may help you.
Jazz up the look of your walls
It doesn't matter how spacious your hallway is – playing with color can create an interesting and unique look. For example, you can choose a shade that matches the overall theme of your home or go for some more personal color combinations. Mixing bold patterns with neutral shades also works great. Accent wall trend can be incorporated in a small and narrow hallway as well. On the other hand, experimenting with patterned wallpapers can help you create a textured and warm environment in a jiffy. Finally, you can look into the faux wood paneling trend if that's something you like.
Interesting lighting solutions
You don't have to replace your whole lighting system if you don't want to. It's worth mentioning that recessed lights work pretty well in smaller areas such as hallways, but you can still work with what you already have. It doesn't matter if you have just one ceiling light or wall lamps. There are plenty of fun DIYs to try out in order to create your perfect lamp shade/cover that would transform the look of this space. As long as you choose adequate bulbs that keep the hallway well-lit, you can let your creativity run wild.
Create unique wall galleries by hanging several smaller pictures that match your style the best.
Add some accessories
While on the subject of décor ideas that actually don't take up a lot of space, if at all, you can effectively accessorize your hallway. Of course, a number of accessories and their nature will depend on the hallway size as well as your personal taste. For example, a soft runner rug would be perfect for this area, especially when it comes to adding warmth and texture without taking up space. On the other hand, you can utilize your empty walls to the fullest. Create unique wall galleries by hanging several smaller pictures that match your style the best. Moreover, you can choose a statement mirror for this area since it will add to the décor as well as make the hallway appear visually bigger. Finally, hanging plant pots is a perfect option for a narrow hallway.
Organize your hallway creatively
It's important that you carefully assess the size of your hallway before you proceed with organizational décor. However, you cannot ignore this particular design aspect, especially if you're dealing with an entrance hallway. In that respect, you need a proper storage for your footwear and even your coats and jackets. One of the more interesting ways to go about this project is to install floating shelves or use narrow tables and bookshelves to store your footwear. It's fairly easy to install hooks and even decorative knobs for your coats. Moreover, you can make an ottoman or even repurpose your old chairs to add the much-needed surface to your hallway in case there's no room for a whole table. With the possibility to use decoupage and other fun DIYs, your "table" can become an accent piece in your hallway.
It's essential to stick to your own unique style when decorating is concerned. Take a look at the rest of your home for inspiration as well as available pictures online. It may seem challenging at first, but the fact that you'll be decorating a small space such as a hallway with all your creative powers will soon get pretty fulfilling and rewarding.
Diana Smith
Diana Smith is a full time mom of two beautiful girls simply in love with interior design and DIY projects. In her free time she enjoys exercising and preparing healthy meals for her family.
Related posts