Setting yourself up for success as a real estate photographer

Adrian Johansen, 2 years ago
0
4 min

read
1023
Real estate photography is becoming an increasingly popular and unique industry, thanks to a growing need and hefty competition, all at once. It's no surprise why there's such a demand for photographers, as nearly 70% of real estate agents believe professional photography helps their business.
But, that also means more professional photographers are jumping into the industry. So, what can you do to stand out and set yourself up for success as a new real estate photographer? How can you get started and get hired – either by an independent realtor or an agency? Let's go over a few essential tips to lay the foundation of your business so that you can start on the right foot.
Making sure your work is up to par
With so much competition in the real estate agency, having a solid portfolio is crucial. It's not enough for that portfolio to include head shops and landscapes. You should have experience in real estate photography. Even if that means taking pictures of your own home, or the homes of friends and family, you should have something relevant to show a potential client.
And, it needs to be good.
That starts with developing your sense of style. According to real estate and aerial photographer Jonathan Boone, "your style is your business card." You will use it to market yourself and your work and set yourself apart from others. There isn't one "correct" style, as long as you're showcasing a home in the best possible way without showing its imperfections. Some factors to consider include:
Lighting
Color palettes
Arranging furniture or decorations
How to edit photos to bring them to life
Making these choices while you're on location and editing will end up being the hallmark of your photography business. Eventually, people will start to recognize your work if you keep it consistent. Real estate photography can be incredibly creative if you're willing to take chances.
Building a client base
You can't grow your photography business without a steady client base.  Getting hired by an agency will give you plenty of work. But, if you want to remain independent, you're going to have to stand out in other ways. That starts with marketing yourself.
When you're a real estate photographer, you are your brand. You have to be willing to showcase a "product" you're proud of, use your name as your business, and take a multi-modal approach to the market. That includes advertising yourself through as many avenues as possible. Post regularly on Facebook and Instagram. Get creative with TikTok. Send out monthly newsletters to current clients or realtors in the area who subscribe. Have a quality website that displays your portfolio clearly and explains who you are and what you do.
Once you start working with a few clients, continued growth will depend on things like customer service, the deals and incentives you're able to offer, and how easy you are to reach. Word travels fast, and word-of-mouth advertising is just as valuable in the real estate industry as anywhere else.
Put yourself out there as much as possible to "be seen." That includes giving back to your community and showing that your brand is dedicated to more than just making a buck. When you establish yourself/your business as part of a specific area, your name is more likely to be brought up when looking for a real estate photographer. Even when you have a steady client base, don't let up on the gas when marketing yourself and staying connected to those you work with regularly. Your goal should always be longevity and lasting success.
Finding continued success
The real estate industry is constantly changing. That's why it's important to consistently network with experts in the field, including your clients, to know what's going on. Staying on top of real estate trends will help you to be more relevant on social media, offer "trendy" services (remember when aerial/drone photography started to take over the world in 2019?), and will make it easier to adapt to what people want to see when they're looking for a home.
Continued success within your real estate photography business also depends on your willingness to invest in yourself. We don't have to tell you how quickly gear and accessories can become obsolete. You'll always need to keep working on things like:
Having the latest camera equipment and editing tools
Understanding angles and how viewpoints change
Knowing the kinds of images people want
Grasping the dynamic range of the camera you're using
Being a good real estate photographer is about continued growth. It's a fantastic way to hone your skills and get better because what's in demand will continually change. To stand out, let your personality shine through your work. If you stay true to who you are, you're more likely to find success and be comfortable with growth and change as a photographer.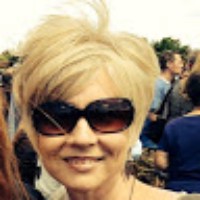 Adrian Johansen
I'm a writer and adventurer in the Pacific Northwest, always in the pursuit of more knowledge!
Related posts